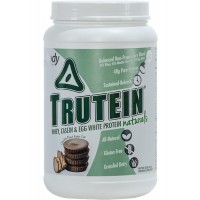 Trutein is one of my favorite proteins, if not my favorite protein brand. Just the amount of flavors and how good they taste. You can't beat the feeling of actually looking forward to drinking your protein! Well I guess fans have been asking for an all natural formula for some time because Body Nutrition is coming out with Trutein Naturals.
What is Trutein Naturals?
This is only coming from the Body Nutrition Facebook page. We don't even know if it will be called Trutein Naturals. Fans wanted a natural formula of Trutein…so Body Nutrition is delivering it. We can guess it will have the following:
All Natural Flavors and No Artificial Flavors
No Artificial Colors
No Artificial Sweetners
Gluten Free
NON-GMO
This is just a guess at those, but that's usually what the "all natural" crowd wants. Either way, I have got to think it will taste awesome…which would be a first for an all natural protein. As soon as it is released, we will definitely post the ingredients and formula here…as well as the taste if we can get our hands on it!
BUY TRUTEIN NATURALS NOW!